Our Awards
eLearning Award 2022
Best Sales Training
Our project "Combined Training of Sales and Product Skills via Blended Learning" has been credited with the eLearning AWARD 2022 in the category Sales Training by the expert panel of the eLearning Journal. Together with the Westcon Group, a training programme was developed to teach participants both the sales psychology and the technical aspects of a newly launched Westcon product.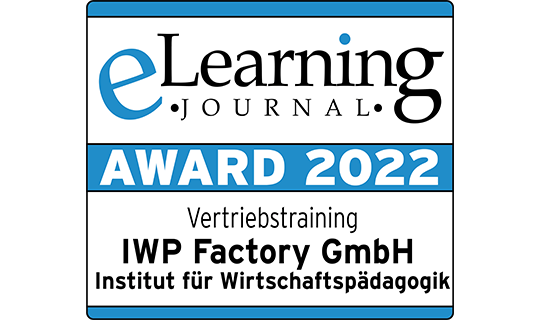 Several times winner of the international German Training Award

What matters to us is the successfully concluded project and the success of our customers. For this very reason, we are proud that our training approach has been honoured several times by an international panel of judges made up of training experts and users. In 2007, 2009 and 2012 we received the International German Training Award, now the European Award for Training, Consulting and Coaching, in bronze. This proves that, as a service provider, the Institut für Wirtschaftspädagogik lives up to the highest standards.